Podprti projekti
Seznam
Mladinska umetnost za zemljo (YAFE)
IRDO – Inštitut za razvoj družbene odgovornosti (Partner)
Ustvarjalna Evropa (2021–2027) – KULTURA

Arhitektura, oblikovanje in uporabne umetnosti

KULTURA

2022

200.000 EUR

43.913,00 EUR

1. marca 2023 - 28. februarja 2025

V teku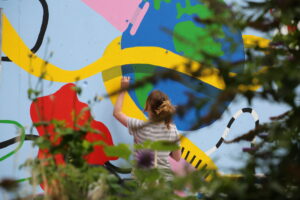 Projekt Mladinska umetnost za zemljo – Youth Art for the Earth (YAFE) je nastal kot pobuda Paint the Change, ki je bila ustanovljena leta 2015, da bi združila družbeno akcijo in ulično umetnost. Izdelali so več kot 60 fresk (muralov) po vsem svetu, na vseh celinah, in pritegnili milijone ljudi prek digitalnih in televizijskih medijev z edinstveno mešanico angažiranosti mladih, javne umetnosti in kampanj za ozaveščanje javnosti. Murali (svelike stenske poslikave) so le del naše zgodbe. Naše delavnice vodijo lokalni pedagogi in umetniki. Pedagogi vključujejo mlade v smiselne pogovore, medtem ko umetniki udeležencem pomagajo izraziti in vizualizirati svoje ideje. Rezultat je velikanska umetnina, ki postane del tkiva in zgodovine sosesk, kjer delamo. Ulična umetnost je odlično orodje za komunikacijo in debato ter za izboljšanje javnih prostorov v korist lokalnih skupnosti. Naš cilj v tem projektu je izboljšati zmogljivost za soustvarjanje privlačne ulične umetnosti, ki spodbuja vključevanje in okoljsko trajnost z:
• Vključevanjem vzgojiteljev in uličnih umetnikov v pilotiranje inovativnega programa.
• Vključevanje do 120 mladih udeležencev v visoko interaktivne delavnice, ki gradijo kreativne in kritične veščine mišljenja.
• Predstavitev šestih javnih umetnin skozi soustvarjalni proces v korist lokalnih skupnosti.
• Razširitev razprav na delavnicah s pomočjo filma in digitalnih medijev. Osredotočeni smo na starejše najstnike iz prikrajšanih in marginaliziranih skupnosti (približno polovica naše ciljne skupine).
Naš cilj je, da jih opolnomočimo in podamo možnost za umetniško izražanje ter možnost sodelovanja pri reševanju vprašanj okoljske trajnostnosti, tako da razvijemo njihove sposobnosti ustvarjalnega in kritičnega mišljenja ter jih vključimo v javno umetnost. Kjerkoli je to mogoče, bomo uporabljali nove, okolju prijazne tehnologije, kot je barva, ki absorbira ogljik. Naše aktivnosti bodo potekale v Franciji, Srbiji in Sloveniji preko partnerstva naslednjih organizacij: Nobulo in Urban Art Paris, Francija, Sklad B92, Srbija, in IRDO, Inštitut za razvoj družbene odgovornosti, Slovenija.
V Sloveniji bomo v obdobju od marca 2023 do februarja 2025 (24 mesecev) skozi delavnice na temo mladinske umetnosti in trajnostnosti vključevali mlade, naslikali dve stenski poslikavi (po 1 v Ljubljani in v Mariboru) ter posneli videe, ki bodo na koncu združeni tudi v mednarodni dokumentarni film. Vse bomo podprli s promocijo in drugimi izobraževalnimi, osveščevalnimi aktivnostmi. Projekt Youth Art for the Earth (YAFE) predstavlja sodelovanje kulturnih organizacij po vsej Evropi pri programu za vključevanje mladih v artikulacijo sporočil in soustvarjanje umetniških del o družbeni odgovornosti in okoljski trajnosti.
Več informacij o projektu YAFE tudi na www.paintthechange.me.
IRDO – Inštitut za razvoj družbene odgovornosti
(Partner)
Ljubljana-Dobrunje
Vsi projekti slovenskega producenta
Tuji producenti pri podprtem projektu
Nobulo in Urban Art Paris

(partner)

Sklad B92

(leader)