Podprti projekti
Seznam
X-OP – Exchange of Art Operators and Producers (Izmenjava operaterjev in producentov umetnosti)
(Partner)
Interdisciplinarni projekti

2008

904.755 EUR
Vodja projekta: KID KIBLA, Maribor (SI)
Soorganizatorji: Muzej-Museo Lapidarium, Novigrad (HR), Media In Motion, Berlin (DE), Institut Egon March, Ljubljana (SI), Mooste Kulalisstuudio MTU, Mooste (EE), Rahmenwerk E.V.- Verein zur Westost-Europaischen Situation, Dunaj (AT), Instituto politecnico de Tomar (PT), Tadeikoulu Maan Kannatustyhdistys RY, Helsinki (FI), Apartement Projects, Istanbul (TR), International Centre for Art and New Technologies (CIANT), Praga (CZ)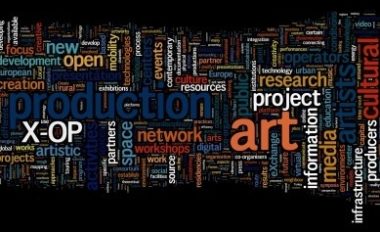 X-OP (eXchange of art operators and producers) – Izmenjava operaterjev in producentov umetnosti je postopoma rastoče omrežje umetnikov, raziskovalcev, operaterjev, producentov in centrov s ciljem vzpostaviti Evropsko platformo za ustvarjanje umetnosti in izmenjavo. Platforma ponuja različne lokacije, prostore in uporabnikom prilagojeno tehnološko infrastrukturo in s tem spodbuja mobilnost umetnikov, teoretikov in strokovnjakov. Projekt bo okrepil vseevropsko sodelovanje, skupno produkcijo in interdisciplinarni pristop k umetnosti. Mobilnost bo segala široko na podeželje, kjer se nahaja večina rezidenčnih centrov za umetniško ustvarjanje in predstavitve, v urbana središča s konstelacijami institucij ter v odprta vmesna ozemlja. Tu ne gre le za prenos skozi virtualni prostor, ampak za sprehod skozi fizični prostor. Partnerski centri želijo z dolgoročnim sodelovanjem vzpostaviti in razvijati infrastrukturno in informacijsko podporno okolje v povezavi z informacijsko tehnologijo, digitalno kulturo in umetniškim ustvarjanjem v širokem kontekstu, od umetniške produkcije in predstavitve do raziskav in izobraževanja.
Namen je vzpostaviti multisektorsko sodelovanje med centri, producenti, kulturnimi izvajalci, umetniki in raziskovalci in hkrati razvijati infrastrukturo za informacijsko in komunikacijsko tehnologijo, ki omogoča širokopasovna omrežja za raziskovalna, izobraževalna, kulturna, umetniška in poslovna okolja, primerno infrastrukturo za središča umetniške produkcije in interdisciplinarnih področij raziskav.
Aktivnosti projekta:
Programiranje družbe – performans simpozij, 7. in 8. junij 2011, od 18. ure dalje
UKIYO – gibljivi svetovi / koreografska instalacija
16. junij 2010
UKIYO je "koreografska instalacija", zasnovana kot avdiovizualni koncert v živo, na katerem nastopajo plesalci, igralci in glasbeniki z akustičnimi / ojačanimi instrumenti in posebej zasnovanimi zvočnimi oblačili (modna zasnova Michèle Danjoux). Gibalni liki so izvedeni v navzkrižni scenografiji petih modnih pist hanamichi ob spremljavi elektronske glasbe ter svetlobnih in zaslonskih projekcij digitalnih posnetkov / animacij na štirih zaslonih.
Projekt raziskuje plasti zaznavanja v avdiovizualnem svetu, ki se neprestano spreminja in razpada. Obiskovalci so povabljeni, da se gibljejo povsod po prostoru, ki v svoji trenutni različici vsebuje eno od petih modnih pist hanamichi. Plesalci se gibljejo hkrati s projiciranimi digitalnimi objekti. Glasba in vizualna koreografija za projekt "Ukiyo"  sta zasnovani za gibalno interakcijo v realnem času, s čimer so oživljeni sistem povratnih informacij in generativni algoritmi, v katerih se virtualni prostor prepleta z gibanjem performerjev. Projekt "Ukiyo" izvaja mednarodna ekipa, katere člani so svoje delo razvili v spletnem sodelovanju z digitalnimi umetniki iz Tokia v okviru poskusa medkulturne raziskave v virtualnih okoljih, ki jo je vodil Birringer.
Več: KIBLA 
Mednarodna konferenca pierre schaeffer: mediArt
6. – 7. oktober 2010, Reka , Hrvaška
V okviru stoletnice rojstva francoskega radijskega inženirja in skladatelja Pierra Schaefferja Muzej moderne in sodobne umetnosti na Reki organizira mednarodno konferenco na temo medijev in umetnosti (Media OR art? / Media AND art?).
Konferenca je del mednarodnega projekta X-OP.
Če se želite konference udeležiti s svojim prispevkom, do 30. aprila 2010 pošljite predlog oz. osnutek prispevka na e-naslov, do 30. maja 2010 pa daljši prispevek s povzetkom (900 znakov s presledki).
Več: mediAart
Vabilo na enomesečno rezidenco (Maribor, oktober 2009)
KID KIBLA vabi umetnike, teoretike in producente na enomesečno rezidenco, ki bo potekala v okviru projekta v Mariboru oktobra 2009.
Udeleženec rezidence mora predlagati projekt za Kiblix –festival odprtokodne umetnosti, ki se bo zgodil v Multimedijskem centru KIBLA (MMC KIBLA) konec oktobra 2009.
Pričakuje se sodelovanje z lokalnimi umetniki in umetnicami, javne predstavitve opravljenega dela (v Kibli in tudi drugih prostorih in krajih), predavanje ali/in delavnico in pregled rezidenčnega bivanja.
Stroški bivanja in prehrane so kriti s strani Zavoda Kibla, prav tako bodo udeležencu pomagali vzpostaviti umetniško produkcijo med potekom rezidence.
Prijave zbirajo do 15. septembra na e- naslov ali na naslov: MMC KIBLA, za X-OP rezidenco, Ulica kneza Koclja 9, 2000 Maribor
Prijava naj vsebuje življenjepis, opis dosedanje umetniške prakse in motivacijsko pismo.
Projekt je bil finančno podprt v okviru programa Kultura (Sklop 1.1, razpis 2008).
Vsi projekti slovenskega producenta