Podprti projekti
Seznam
All Strings Attached: Pioneers of the European Puppetry Behind the Scenes
LGL – Lutkovno gledališče Ljubljana (Partner)
Uprizoritvene umetnosti (gledališče, ples) in glasba

KULTURA

2015

199.476 EUR

30. septembra 2015 - 30. septembra 2017

Zaključeno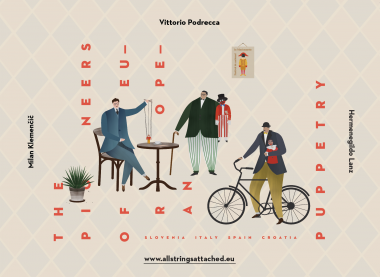 Številne lutkovne zgodbe se še danes skrivajo po zaprašenih podstrešjih, v pozabljenih skrinjah, vsekakor pa težko poiščejo pot iz muzejskih arhivov. Namen pridobljenega projekta, v katerega Lutkovno gledališče Ljubljana vstopa skupaj z italijansko občino Čedad, s špansko gledališko skupino Etcetera in s hrvaško Umetniško akademijo Osijek, je pozabljene zgodbe velikih lutkovnih mojstrov izpostaviti in predstaviti širšemu občinstvu.
Sodelujoči partnerji se ponašajo z dragocenimi zbirkami znamenitih lutkarjev, ki so v prvi polovici 20. stoletja vsak v svoji deželi pomembno vplivali na razvoj lutkovne umetnosti.
Projekt z izvirnim naslovom All Strings Attached: Pioneers Of European Puppetry Behind the Scenes je zamišljen kot celostna potujoča umetnina. Izpostavlja miniaturno gledališče očeta slovenskega lutkarstva Milana Klemenčiča, marionetno gledališče I Piccoli di Podrecca Vittoria Podrecce, ki je s svojim varietejskim in opernim programom pomembno vplival na evropsko lutkovno umetnost ter dela Hermenegilda Lanza, ki v družbi skladatelja Manuela de Falla in pesnika Federica Garcíe Lorce velja za utemeljitelja španskega lutkarstva.
Prvi del projekta bo namenjen raziskovanju, konserviranju-restavriranju razmeroma slabo ohranjenih lutk in izmenjevanju znanja s področju varovanja lutkovne dediščine. V drugem delu pa bodo v sklopu projekta dosežki lutkovnih mojstrov celostno predstavljeni z nizom lutkovnih razstav, oživljenih lutkotečnih predstav in ciljnih delavnic, ki bodo spremljale izbrane evropske festivale s področja lutkovne umetnosti.
LGL – Lutkovno gledališče Ljubljana
(Partner)
Ljubljana
Vsi projekti slovenskega producenta
Tuji producenti pri podprtem projektu
COMUNE DI CIVIDALE DEL FRIULI

(leader)

SVEUCILISTE JOSIPA JURJA STROSSMAYERA U OSIJEKU UMJETNICKA AKADEMIJA U OSIJEKU

(partner)

TITERES ETCETERA SL

(partner)