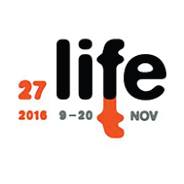 Since 1990, the Ljubljana International Film Festival (popularly known as Liffe), the biggest and most important international film event in Slovenia, has devoted its program each year to idiosyncratic, contemporary and socio-political auteur cinema from Europe and around the world. Over the twelve days of the festival, Liffe offers international film and press representatives and guests of the film industry and the local cinema audience a program with approximately 120 outstanding, hand-picked films, documentaries and short subjects. Festival's main prize, The Kingfisher, is awarded to best young filmmaker from our Perspectives section.
The festival wants a strong personal presence from filmmakers, to interact with audiences and share their invaluable artistic experiences. Liffe is an attractive and communicative platform for young filmmakers, cineastes and representatives of the film industry, a festival of manageable size, which centers around experiencing film in a relaxed atmosphere.

27th edition …
In 2016, audience development actions will be upheld and strengthened with major partners, they will be preparing film educational programs for different age groups. A special Youth Film Jury will be introduced – watching and awarding a selection of films that are tackling important youth and adolescent issues.
One very direct link with audiences is the introduction of "Kinotrip", a sub-section of our "Kinobalon" youth section, where schoolchildren are asked (under professional tutorship) to independently create their own film program, therefore breaking the boundaries between "official" programmers and the audience.
Liffe is also recognizing the importance of new technologies and social media, especially when addressing younger audiences who are at the focal point of festival's development programs. Education initiatives, cooperation with schools, interaction with international guests remain one of festival's main goals, also strengthening decentralized events and collaboration with Slovenia's Art Cinema Network and other film festivals, such as Zagreb FF and Brussels FF. Liffe has long ago ceased to be only a »Ljubljana« film festival, it has addressed regional and international partners alike. We will be adding the third Slovenian city into our festival landscape; after Maribor, the cities of Celje and Novo mesto will be added as festival centers.