Funded projects
List
GELATOn the ROAD
Regional Development Agency ROD (Partner)
Creative Europe (2021–2027) - CULTURE

Culture

2022

1.733.747,00 EUR

115.585,80 EUR

April 1, 2023 - March 31, 2026

Ongoing
GELATOn the ROAD creates the first European Gelato Road aimed at promoting and preserving local cultural heritage and identity. It is based on the criteria of environmental sustainability, product and raw material quality, and innovation within the artisan Gelato supply chain system. Through the ages, the art of Gelato making has been passed down from generation to generation, becoming an integral part of the cultural fabric in many societies. The flavors and textures of Gelato have been influenced by a variety of factors, such as local ingredients and culinary traditions, resulting in a diverse range of unique and delicious offerings. Therefore, it is essential to recognize Gelato's cultural heritage and its role in shaping cultural identity. This recognition can help to promote the preservation and promotion of Gelato-making traditions, encouraging the continuation of this beloved culinary art form for generations to come.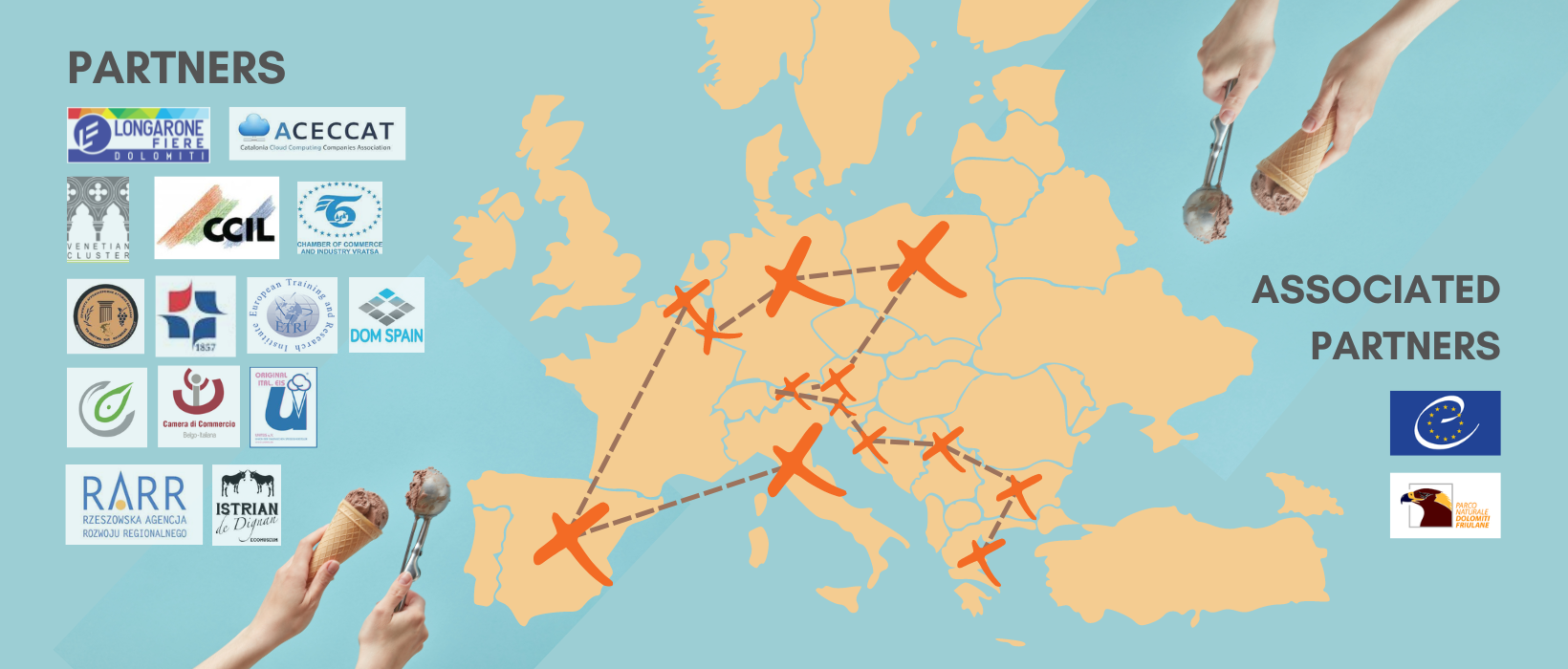 RRA ROD Ajdovščina, in a partner role within the project, will provide support for defining the content of the trainings and include three local ice cream producers from the Vipava Valley in the European Road of Gelato – EroG. It will carry out the following activities in the local environment:
a stop by the traveling pop-up museum as part of the annual Flavours of Vipava valley festival: the exhibition will be related to the history of ice cream and aspects of quality, sustainability and gastronomy in cultural tourism;
training – conducting workshops on the topic of sustainable solutions for cultural tourism and sustainable production of artisanal ice cream;
cooking show: use of local ingredients in making artisanal ice cream, combining ice cream with local cuisine;
public presentation and promotion of the project as part of the stop of the traveling pop-up museum.
ROD will be the leading partner in work package 3, which will be aimed at establishing the EroG. Ice cream producers and other actors from all partner countries (at least 10) will be involved in the activity. For this purpose, a project website will be established, through which ice cream producers will apply to participate in project activities. A condition for inclusion will be commitment to sustainable standards. A competition for the best ice cream flavor will be organized, with each project partner providing a local ice cream producer with at least two ingredients from the local environment.
Regional Development Agency ROD
(Partner)
Ajdovščina
All projects of Slovenian producer
Foreign producers in the supported project
Longarone Fiere Dolomiti

(partner)

Venetian Cluster

(partner)

Belgian-Italian Chamber of Commerce

(partner)

The Agrifood Partnership of the Region of Western Greece

(partner)

Uniteis e.V.

(partner)

Italian Chamber of Commerce

(partner)

Chamber of Commerce and Industry of Serbia

(partner)

Dignan Ecomuseum Vodnjan

(partner)

European Training and Research Institut

(partner)

Cloud Computing Business Association of Catalonia

(partner)

Rzeszow Regional Development Agency

(partner)

The Chamber of Commerce and Industry Vratsa

(partner)

DomSpain (DS Formacio)

(partner)