Funded projects
List
Building the future of democracy through art, science and technology (EUDigitalDeal)
Zavod Kersnikova (Partner)
Creative Europe (2021–2027) - CULTURE

Multimedia and New Technologies

Culture

2022

2.000.000 EUR

96.210,12 EUR

January 1, 2023 - December 31, 2025

Ongoing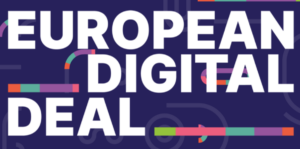 European Digital Deal is a three-year investigation co-funded by Creative Europe into how the accelerated, yet at times unconsidered adoption of new technologies – such as artificial intelligence, machine learning, blockchain and algorithmic processing – can alter or undermine democratic processes.
Through a myriad of programmes running from January 2023 to December 2025, the consortium wants to set up a new kind of public forum where cultural institutions, artists, researchers, educators gather to reflect on what a deal that safeguards democratic values in the digital realm might look like, and the role they can play in shaping it.
Note: Open call for 12 artist residencies exploring the deep entanglement between new technologies and democracy. The residency hosted by Kersnikova, will focus on Hybrid Intelligence. The selected artists will receive a 25.000 EUR grant to complete their project, mentorship through an incubation programme, and the chance to show their work at Ars Electronica Festival, Onassis Stegi, and Laboral, among many other locations. The call was launched on the 28th of September 2023, and remains open until the 30th of November 2023, 23:59 CET.
Zavod Kersnikova
(Partner)
All projects of Slovenian producer
Foreign producers in the supported project
Ars Electronica

(leader)

Gluon

(partner)

iMAL

(partner)

LABoral

(partner)

Οnassis Stegi

(partner)

Pro Progressione

(partner)

Sineglossa

(partner)

Braga Media Arts

(partner)

gnration

(partner)

The Center for the Promotion of Science (CPN)

(partner)

The Culture Yard

(partner)

Waag Future Lab

(partner)

Zaragoza City of Knowledge Foundation (FZC) / Etopia

(partner)