Funded projects
List
Performing Gender – Dancing In Your Shoes
Mesto žensk – City of Women (Partner)
Creative Europe (2014 -2020) - Culture

Performing Arts (Theatre, Dance, Music)

Culture

2020

2.473.812 EUR

1.236.906 EUR

November 1, 2020 - December 31, 2023

Ongoing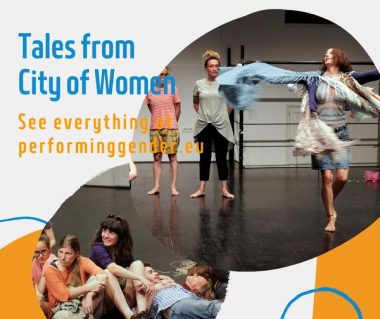 Performing Gender – Dancing In Your Shoes is a 3-year audience development project that involves different actors of cultural production chain – communities, organizations, artists, policy makers, academics – from Italy, Hungary, Sweden, The Netherlands, UK, Spain, France, Slovenia.
11 cultural organizations of 8 European countries – dance festivals, LGBT+ association, universities, worldwide organizations, production centres – involve 225 members of their local communities into a training and production artistic process, in order to foreground marginalised voices and share new stories on gender, with relevance with new dance audiences.
The goal is to develop co-design practices for a democratisation of cultural production by way of audience development. The communities are at the centre of a co-design process of creative laboratories and newly commissioned 8 dance productions and workshops, together with 16 dance makers, 9 artistic directors, 8 audience developers, 11 project managers, 3 academic researchers and 1 artistic advisor.
The results of the process are published in a handbook that collects analysis of methodologies, together with the academic evaluation of the project's impact on the artists and audiences involved, made by researchers of Bologna University.
Gender equality and audience development in the arts are nowadays growing priorities for European countries living through turbulent times of political unrest. For this reason PG – DIYS shares the results of its experience with 16 local and national policy makers from partners' countries and 10 more from EU Parliament. The goal is to offer policy makers an exchange with international peers and cultural professionals, to deepen a discussion on gender in the European dance system.
Mesto žensk – City of Women
(Partner)
All projects of Slovenian producer
Foreign producers in the supported project
Comitato Provinciale Arcigay di Bologna il Cassero Associazione

(leader)

Alma Mater Studiorum - Universita di Bologna

(partner)

Association Plaisir d'Offrir

(partner)

Norrlandsoperan AB

(partner)

PASO a 2 Plataforma Coreografica Asociacion Cultural

(partner)

Sin Muveszeti es Kulturalis Nonprofit KFT

(partner)

Stichting Dansbrabant

(partner)

Stichting Theaterfestival Boulevard's-Hertogenbosch

(partner)

The British Council

(partner)

Yorkshire Dance Centre Trust

(partner)