Funded projects
List
Future DiverCities: The School of Feral Grounds
Trajna – Association for the Development of Sustainable Design (Partner)
Creative Europe (2021–2027) - CULTURE

Architecture, Design and Applied Arts

Culture

2021

64.521,00 EUR

June 15, 2022 - June 15, 2026

Ongoing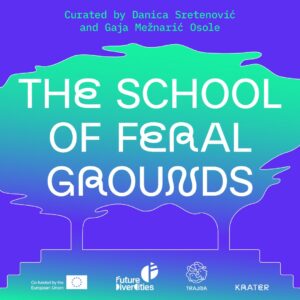 Future DiverCities is a pan-European project working towards systematising ecosystemic and ecological strategies in cultural urban regeneration. Through a coalition of 13 partners from 10 different countries, the project aims to to pilot and test new culture-led usages of vacant urban lands, foster cross-sectoral learning and develop new approaches and practices of cultural urban regeneration.
As part of the Future DiverCities program, Trajna produced an educational programme "The School of Feral Grounds", together with INNOCAMP PL.
The School of Feral Grounds situates cultural practices in the world in which capital-driven economies act as geological forces, terraforming the earth into a place where climate change, social inequality, and species extinction call for urgent collective action. The school acts as a forum for interchange, where reflections, concepts, case studies, and generative exercises invite participants to position urban ecologies within the field of culture by interlinking common notions of the urban and ecology. In a series of three interactive study modules, participants of the programme will dive into diverse topics of urban ecology and different perspectives thereon, together with inspiring guest speakers working in the fields of visual arts and curation, activism, geography, and ecology. The programme is developed and run by architect and theoretician Danica Sretenović and eco-social designer Gaja Mežnarić Osole, and is offered to the public free of charge.
Trajna – Association for the Development of Sustainable Design
(Partner)
Ljubljana
All projects of Slovenian producer
Foreign producers in the supported project
Friche La Belle De Mai

(leader)

Seconde nature

(partner)

Kontejner

(partner)

Anti – Contemporary Art Festival Yhdistry Ry

(partner)

Liepajas pilsetas pasvaldibas iestade kulturas parvalde

(partner)

Savonia – Anmattikorkeakoulu

(partner)

Public Art Lab EV

(partner)

Lama societa cooperative – impresasociale

(partner)

BIOS Exploring Urban Culture

(partner)

Asociatia centruel cultural PLAI

(partner)

Europaiko diktyo dimiurgikon komvon

(partner)

Innocamp

(partner)