Supported projects
List
Along the Walk (AtW)
Družina umetnosti Narobov (Partner)
Creative Europe (2021–2027) - CULTURE

Performing Arts (Theatre, Dance, Music)

Culture

2021

200.000,00 EUR

66.477,81 EUR

July 1, 2022 - June 30, 2024

In Progress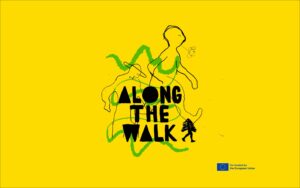 Along the Walk is an international two-year project in the field of performing arts. It has been developed and is run by our three theatre companies: Gorilla Theater from Berlin, Combats Absurdes from Lyon and DU Narobov from Ljubljana.
The core of the project is artistic tours in European rural areas done by walking duos of performing artists, the so-called Walks. The 14 Walks, performed by duos of artists from 8 different countries, are the artistic production of the project and at the same time a research tool in order to develop innovative performative methods based on deceleration, environmental awareness, social inclusion and intercultural dialogue.
The three main objectives of our project are developing innovative models of artistic creation and production, reaching audiences in European rural areas and sharing of the project's knowledge target two main audiences of the project: art professionals, specifically from the field of artistic improvisation and inhabitants of rural areas who will experience and co-create 42 performances by the project's artists.
The findings of the research and the knowledge gained within the project will be shared with European performing arts professionals at the Conference and with the Book.
DU Narobov is taking on the role of artistic direction (Artistic Directors of the project are Maja Dekleva Lapajne and Matthieu Loos), main managerial duties (Managerial Directors of the project are Christoph Jungmann and Juš Milčinski) and the conception of the Book.
Družina umetnosti Narobov
(Partner)
All projects of Slovenian producer
Foreign producers in the supported project
Gorilla Theater Berlin EV

(leader)

Combats Absurdes

(partner)