Podprti projekti
Seznam
Litterae Slovenicae: Small literature in major languages
Društvo slovenskih pisateljev (Vodja)
Knjiga in prevodni projekti

KULTURA

2015

27.787,22 EUR

2. septembra 2015 - 1. maja 2017

Zaključeno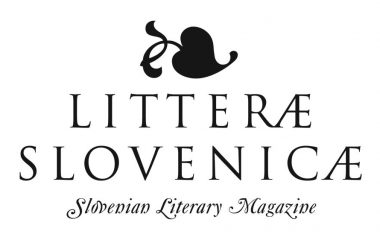 Uredniški koncept zbirke Litteræ Slovenicæ temelji na izdajanju reprezentativnih del eminentnih domačih avtorjev- in sicer v prevodnih ali dvojezičnih izdajah. Pri tem si prizadeva za čim bolj enakomerno pokrivanje vseh literarnih vrst (poezija, proza, drama) kot tudi pol-literarne zvrsti eseja ter za uravnovešeno razmerje med zastopanimi avtorji in avtoricami.
Edicija Litteræ Slovenicæ se trudi po eni strani zapolniti vrzeli pri prevajanju slovenske književnosti iz pretekle literarne zgodovine, zato se delno usmerja v prevajanje temeljnih del nekaterih že pokojnih slovenskih literarnih klasikov (Marjan Rožanc, Josip Murn itd.), ki doslej v izbrane jezike še niso bili prevedeni. Po drugi strani pa se usmerja v prevode in promocijo aktualnih del iz sodobne slovenske književnosti, ki so bila v zadnjem obdobju kritiško in medijsko izpostavljena kot izjemno kakovostne literarne stvaritve.
Uredništvo Litteræ Slovenicæ z izbiro del in ekipe sodelavcev (predvsem prevajalk in prevajalcev) skrbi za kakovostno predstavitev slovenskih avtorjev in avtoric v izbranih tujih jezikih, pri čemer se usmerja predvsem na večja jezikovna okolja, v katerih je slovenska književnost (vsaj z določenimi vidnimi in v tujini manj promoviranimi avtorji) pogosto premalo zastopana in odmevna.
Litteræ Slovenicæ, ki je leta 1963 zaorala ledino za sodobno internacionalizacijo in celostno predstavitev slovenskega kulturnega, zlasti literarnega prostora na tujem, je bila kot izjemen uredniško-prevajalski projekt leta 2012 odlikovana z Lavrinovo diplomo.
S prvimi pretvorbami edicije v elektronske knjige in njihovim postopnim umeščanjem na Biblos in portale elektronskih knjig v tujini si Litteræ Slovenicæ v bližnji prihodnosti obeta širši domet in večjo mednarodno prepoznavnost.
Podprte knjige:
– Vinko Möderndorfer: Kot v filmu / As in a movie, prevod iz slovenščine v nemščino Tadeja Lackner Naberžnik
– Gabriela Babnik: Sušna doba / Dry Season*, prevod iz slovenščine v francoščino Florence Gacoin-Marks
– Davorin Lenko: Telesa v temi / Bodies of darkness, prevod iz slovenščine v nemščino Ann Catrin Bolton
– Josip Murn: Topol samujoč / Selected poems, prevod iz slovenščine v angleščino Nada Grošelj
*Dobitniki Nagrade EU za književnost EUPL.
Vinko Möderndorfer: Kot v filmu / Wie im Film
Prevod iz slovenščine v nemščino: Tadeja Lackner-Naberžnik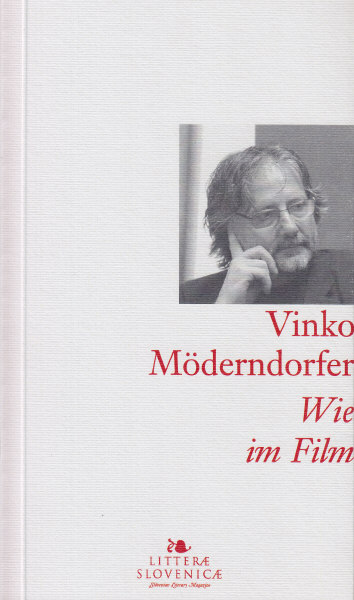 Prvoosebni literarni lik Möderndorferjevega mladinskega romana Kot v filmu, dvanajstletni Gašper, je bister fant, ki ga pretresajo pubertetniške tegobe, povezane tudi s primitivnimi ustrahovanji postavljaških sošolcev. Roman vsebuje naslovljena poglavja, naslovi so opisni in večinoma napovedujejo temeljni konflikt poglavja. Književni čas je strnjen na nekaj intenzivnih mesecev, v katerih Gašper skorajda odraste. Zorni kot je vseskozi Gašperjeva perspektiva, so njegovi občutki in ugotovitve ob novih okoliščinah, ki jih ni pričakoval. Kmalu namreč opazi, da je doma nekaj hudo narobe. Mama je vse bolj sumničava in zazrta vase, oče pa je vse večkrat nepojasnjeno odsoten z doma. Ker ima Gašper bogato domišljijo si – čeprav v sebi že sluti razloge neurejenih družinskih razmer – izmišljuje napete črnohumorne prizore, v katerih ob karikiranih filmskih likih nastopajo člani njegove družine. Pri reševanju težav mu je v pomoč tudi internet, neizmeren vir informacij in edina prava povezava s skrito simpatijo, sošolko Tino. Ko družina razpade, ga oče odpelje k čudaškemu, a prijaznemu znancu Maksu, ta skupaj s svinjo Katarino Veliko in kokošmi domuje v barviti gozdni hišici. Gašperjevo življenje se v svetu brez interneta in televizije – zato pa z množico knjig in življenjskih modrosti – drastično spremeni. Na novo postavljena razmerja odraslih vplivajo tudi na Gašperjevo življenje, predvsem resnica o očetu, ki so mu ga odrasli prej prikrivali. To je roman o slovesu od otroštva in o odraščanju, ki bi lahko bilo tragično, če ne bi bilo narave, knjig, slikarja in svinje.
Davorin Lenko: Telesa v temi / Korper im Dunkeln
Prevod iz slovenščine v nemščino: Ann Catrin Bolton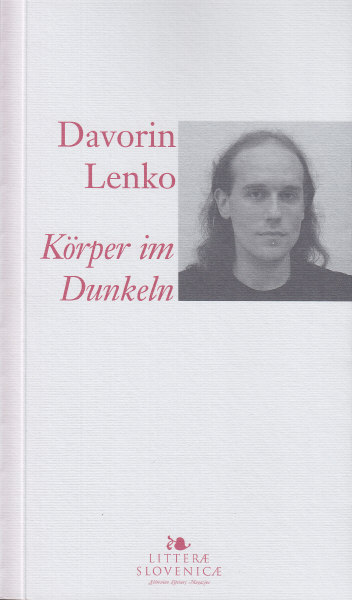 Osrednji lik romana oziroma prozne »fragmentarne krpanke« Telesa v temi je pisatelj z vzdevkom Hank, ki je nekoč hotel napisati zgodbo o nekom, ki ima raka na modih in ga zato kastrirajo. Nekaj desetletij pozneje se mu zgodi, da sam živi to zgodbo. Fizično v spolnosti ne more več sodelovati, zato mora na novo opredeliti odnos do samega sebe in spolnosti. Kdo je, če ni ne moški in ne ženska? Prepušča se fantaziji, spominskim blodnjam, opazovanju spolnega življenja partnerk, vpadanju v spolno življenje literarnih likov, analizi svojega nenavadnega stanja in obiskovanju psihoterapevta. Samega sebe spremeni v glavno in edino temo svoje pripovedi. O sebi govori skozi razdrobljene pasuse v različnih diskurzih: citatih, dialogih, intervjujih, avtopoetskih refleksijah, navajanjih glasbenih, filmskih in drugih popkulturnih referenc. Protagonist obstaja le kot metafikcijski junak v metasvetu, ki zase pravi, da je postal »hodeči in dihajoči citat na dveh nogah«. »Novi postmodernizem« in seks za sladokusce. (Iz spremne besede Tine Kozin.)
Rezultati razpisa za projekte literarnega prevajanja 2015 na EACEA.