Podprti projekti
Seznam
Growing up here, there and everywhere in EU / Odraščanje tu, tam in povsod v Evropi
MIŠ založba (Vodja)
Knjiga in prevodni projekti

KULTURA

2015

25.409 EUR

1. septembra 2015 - 31. decembra 2016

Zaključeno
Seznam prevedenih del:

– Jānis Joņevs: Jelgava '94 / Metalci '94*. Prevod iz latvijščine v slovenščino: Jedrt Lapuh Maležič
– Kevin Brooks: The Bunker Diary / Dnevnik iz bunkerja. Prevod iz angleščine v slovenščino: Meta Osredkar
– Jonas Gardell: En komikers uppväxt / Kako je odraščal komik. Prevod iz švedščine v slovenščino: Nada Grošelj
– Beate Teresa Hanika: Rotkäppchen muss weinen / Krik Rdeče kapice. Prevod iz nemščine v slovenščino: Tina Štrancar
– Anna Woltz: Mijn bizonder rare week met Tess / Nenavaden teden s Tesso. Prevod iz nizozemščine v slovenščino: Katjuša Ručigaj
– Petra Dvořáková: Julie mezi slovy / Julija med besedami. Prevod iz češčine v slovenščino: Diana Pungeršič
Šest izdanih knjig v okviru projekta lahko opišemo s sloganom: 'Odraščanje tu, tam in povsod v Evropi'. Najpomembnejši cilj projekta je zagotoviti slovenskim mladim bralcem odlične prevode visoko kakovostnih evropskih mladinskih knjig, ki jim drugače ne bi bile dosegljive. Izbrane knjige, med njimi jih je nekaj otroških in nekaj za mladostnike, pripovedujejo o odraščanju v različnih evropskih državah, konkretno na Švedskem, v Latviji, na Nizozemskem, v Češki republiki, Nemčiji in Veliki Britaniji. Šest izbranih del pokriva bralno starost od 8 pa do 18 let. Glasovi junakov v teh knjigah so prepričljivi, živahni opisi pa mladim bralcem omogočajo predstavljati si, kako je odraščati v drugi evropski deželi. Večina v izbranih knjigah obravnavanih tematik je podobnih, čeprav se v vsaki od držav odražajo na različne načine. Pri izbiri naslovov smo bili pozorni na emocionalen učinek teh zgodb na mlade bralce. Pet od šestih zgodb blažijo otroško ali mladostnikovo hrepenenje po upanju in svetli prihodnosti, medtem ko jih ena od njih opozarja, da življenje ni vedno pravično in da vedno ne smemo pričakovati srečnega konca. Vse zgodbe pa poudarjajo pomembnost bližine in odnosov znotraj družine in širše družbe. Vse izbrane knjige so v svojem okolju, nekatere pa tudi v mednarodnem, prejele nagrade, ki dokazujejo, da sodijo med najboljša otroška in mladinska dela njihovih izvirnih dežel. Med njimi je prva latvijska knjiga, ki bo prevedena v slovenski jezik in ki je prejela tudi Evropsko nagrado za književnost.
S podporo Ustvarjalne Evrope smo v Miš založbi izdali naslednje knjige (vse, razen prve, so tudi prejemnice Zlate hruške):
Jānis Joņevs: Jelgava '94 / Metalci '94*
Originalni jezik latvijski; prevod v slovenščino: Jedrt Lapuh Maležič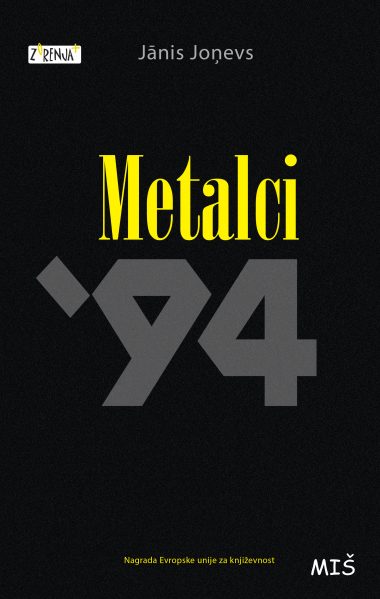 Zgodba je postavljena v devetdeseta leta dvajsetega stoletja v latvijsko mesto Jelgava in obravnava navdušenje nad alternativno kulturo metalske glasbe, ki je zaznamovalo to obdobje. Avtor bralca z iskrenim in duhovitim pripovednim slogom popelje v samo središče tega sveta, ko kombinira osebno doživljanje, skoraj dnevnik odraščajočega mladeniča, ki skuša najti samega sebe, tako da se pridruži subkulturi, in veščo, podrobno in skoraj dokumentarno upodobitev druge samostojnosti Latvije.
(op. *Dobitniki Nagrade EU za književnost EUPL leta 2014.)
Kevin Brooks: The Bunker Diary / Dnevnik iz bunkerja
Originalni jezik angleški; prevod v slovenščino: Meta Osredkar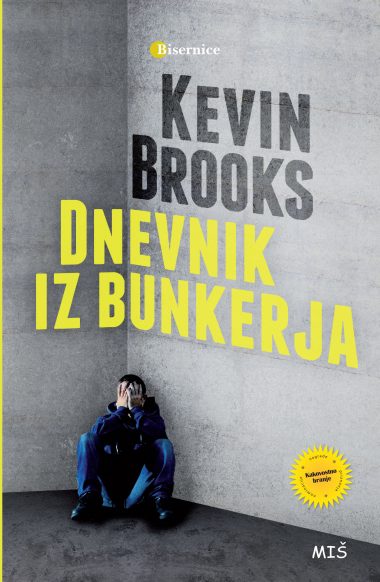 Najstnik Linus Weems se zbudi v podzemnem bunkerju, potem ko ga je neznanec, ki se je pretvarjal, da je slep, zvabil v kombi in ga omamil s kloroformom. Kmalu po njegovem prihodu v bunker začnejo z dvigalom, ki je edini dostop in izstop iz podzemne ječe, prihajati še drugi ugrabljenci. Bunker bralec dozivlja kot svet, ki ga je bog zapustil, odraščanje je soočenje z marsičem, toda predvsem s svojim koncem. Romana bralec ne doživlja kot kriminalno, družbeno kritično besedilo, ampak kot simbolno pripoved o bolečini odraščanja.
Jonas Gardell: En komikers uppväxt / Kako je odraščal komik
Originalni jezik švedski; prevod v slovenščino: dr. Nada Grošelj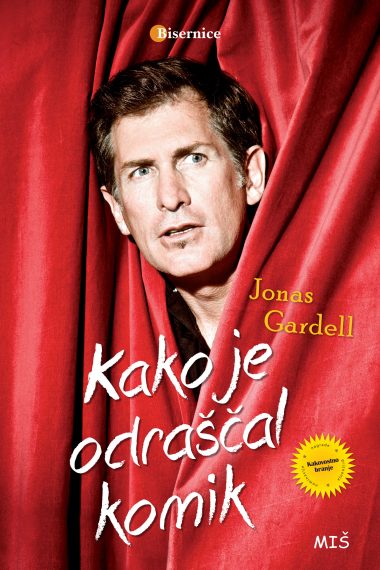 Gardell v romanu otroštvo postavi v vlogo gojišča različnih strahov in travm, poseben poudarek pa namenja vrstniškemu nadlegovanju in ustrahovanju, poleg tega pa tudi starševskemu zanemarjanju in neuslišani mladostniški ljubezni. Odraščanje se tako izkaže kot predloga in sprožilec prihodnjih življenjskih položajev. Gardell je mojster subtilne psihološke karakterizacije literarnih oseb, in čeprav piše o najstnikih in nadvse uspešno orisuje njihovo odraščanje, ne zapade v pootročenje diskurza.
Beate Teresa Hanika: Rotkäppchen muss weinen / Krik Rdeče kapice
Originalni jezik nemški; prevod v slovenščino: Tina Štrancar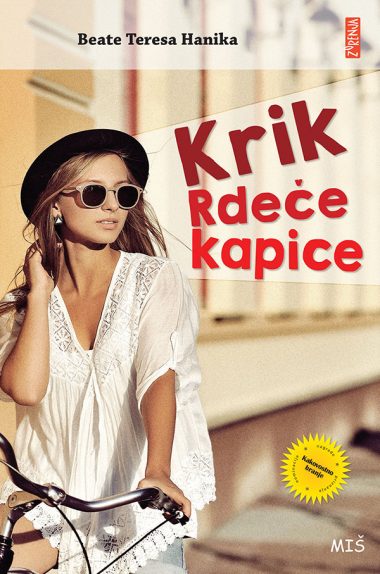 Malvina doživlja veliko stisko, toda na poti odkrivanja in razkrivanja temačne resnice spozna, da je veliko pogumnejša, kot si je predstavljala, da je strašno pomembno imeti vsaj enega dobrega prijatelja, da ni vseeno, komu zaupaš, in da je prva ljubezen nekaj čisto posebnega. Sodobna Rdeča kapica, ki vse, o čemer ste bili prepričani, da veste o tej pravljici, postavi popolnoma na glavo.
Anna Woltz: Mijn bizonder rare week met Tess / Nenavaden teden s Tesso
Originalni jezik nizozemski; prevod v slovenščino: Katjuša Ručigaj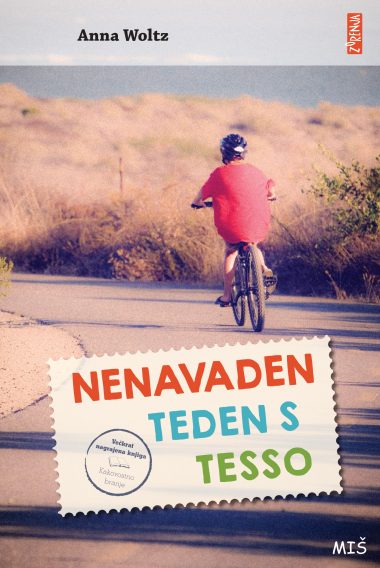 Tessa si zelo želi imeti očeta, po drugi strani pa si Samuel prizadeva, da bi bil na družino manj navezan, da bi se navadil živeti brez nje – le za primer, če se zgodi, da ostane sam. Tessin namen je preizkusiti moškega, ki bi bil lahko njen oče, ali je sploh vreden, da ima takšno hčer, kot je ona. Pri izvedbi svojega načrta potrebuje Samuelovo pomoč – seveda pa gredo stvari narobe in se marsikdaj humorno, včasih pa tudi zelo resno zasučejo. To je knjiga, kjer prepletanje pomembnih življenjskih vprašanj s smešnimi trenutki stke živahno in zelo izvirno zgodbo za mlade bralce drugega bralnega obdobja.
Petra Dvořáková: Julie mezi slovy / Julija med besedami
Originalni jezik češki; prevod v slovenščino: Diana Pungeršič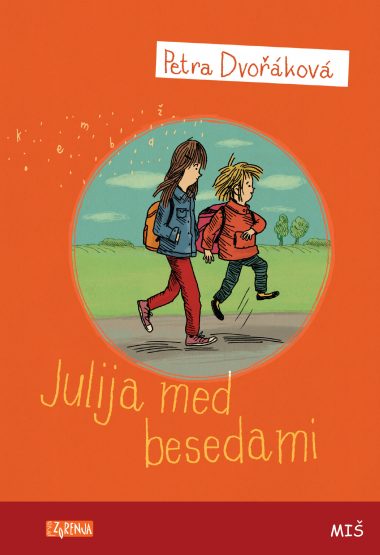 Avtorica s pomočjo Julije in njene pripovedi mlade bralce prvega in drugega bralnega obdobja na spontan način vodi k razmisleku o pomenu in uporabi besed in o pomembnih življenjskih vprašanjih. Knjiga se dotika tudi pogoste, vendar v otroški literaturi morda nekoliko redkeje upovedene teme ločitve, ki jo spremljajo razpad družine, selitev, sprejemanje starševega novega partnerja. Tako na posreden način omogoča mladim bralcem, ki so morda doživeli podobno izkušnjo ali jo ravnokar doživljajo, da se spopadejo z eno izmed najbolj bolečih izkušenj otroštva.