Podprti projekti
Seznam
European Libraries of emotions© (LOE)
Mestna knjižnica Kranj (Partner)
Ustvarjalna Evropa (2014-2020) - Kultura

Knjiga in prevodni projekti

KULTURA

2020

321.527 EUR

192.403 EUR

7. septembra 2020 - 31. marca 2022

Zaključeno
Projekt European "Libraries of emotions© (LOE)": a new path for public libraries to capture audiences and support social transformations in Europe je izhajal iz skupne refleksije evropskih akterjev (podjetje, združenje in splošne knjižnice), ki delujejo na področju knjige in kulture. 65.000 splošnih knjižnic v Evropi, ki letno sprejme 100 milijonov uporabnikov, se neprestano spoprijema z izzivi, ki se navezujejo na njihove storitve, želje uporabnikov in na zaposlene. Vsi vpleteni akterji se zavzemajo za dostopne javne prostore, za zaščito kulturne raznolikosti v Evropi in za zagotavljanje prostega in enakega dostopa do kulture za vse državljane.
Projekt je imel dva glavna cilja:
– podpirati mrežo evropskih splošnih knjižnic pri prilagajanju njihove prakse digitalnemu kontekstu in hkrati ohraniti njihovo poslanstvo pri promociji branja, kulturni raznolikosti, boju proti družbeni diskriminaciji in krepitvi kulturne dediščine,
– izkusiti inovativne načine za spodbujanje branja pri mladih na podlagi transdisciplinarnega pristopa.
V pilotni projekt so bile poleg nosilnega podjetja Love for Livres vključene štiri splošne knjižnice iz različnih EU mest, ki so bile pripravljene raziskati inovativen koncept branja, to so knjižnice iz Anderlechta, Lodža, Kaunasa in Kranja. Partner v projektu je bilo tudi evropsko združenje s sedežem v Bruslju, Public Libraries 2030, ki je med drugim povezalo vse deležnike v projektu.
Vhod v Mestno knjižnico Kranj, 2013. Vir: Mestna knjižnica Kranj.

V delovnem procesu je bilo predvidenih 8 delovnih paketov (WP), vsak partner v projektu je vodil en delovni paket, ki je ustrezal določenim dejavnostim in rezultatom. Mestna knjižnica Kranj je vodila WP2 in je bila odgovorna za predstavitvena in digitalna orodja ter za spodbujanje, usklajevanje in zagotavljanje učinkovitosti izvedbe nalog. Ker slovenskim knjižnicam ni tuje raziskovanje povezav med knjigami in čustvi, kar je bila rdeča nit projekta, je bila Mestna knjižnica Kranj pravi vodilni partner omenjenega delovnega paketa.
Glavna naloga vseh splošnih knjižnic v projektu je bila izvedba 24 biblioterapij z mladimi bralci, ki so temeljile na prostorski zasnovi, digitalnem orodju, kulturni aktivnosti, kognitivni znanosti in nevroznanosti. V posameznem okolju so bile na biblioterapijah obravnavane predvsem knjige lokalnih avtorjev s pomočjo katerih je projekt podpiral ohranjanje poslanstva splošnih knjižnic, tj. promocijo branja, skrb za kulturno dediščino in skrb za preprečevanje socialne diskriminacije z zagotavljanjem dostopa do literature za vse ljudi.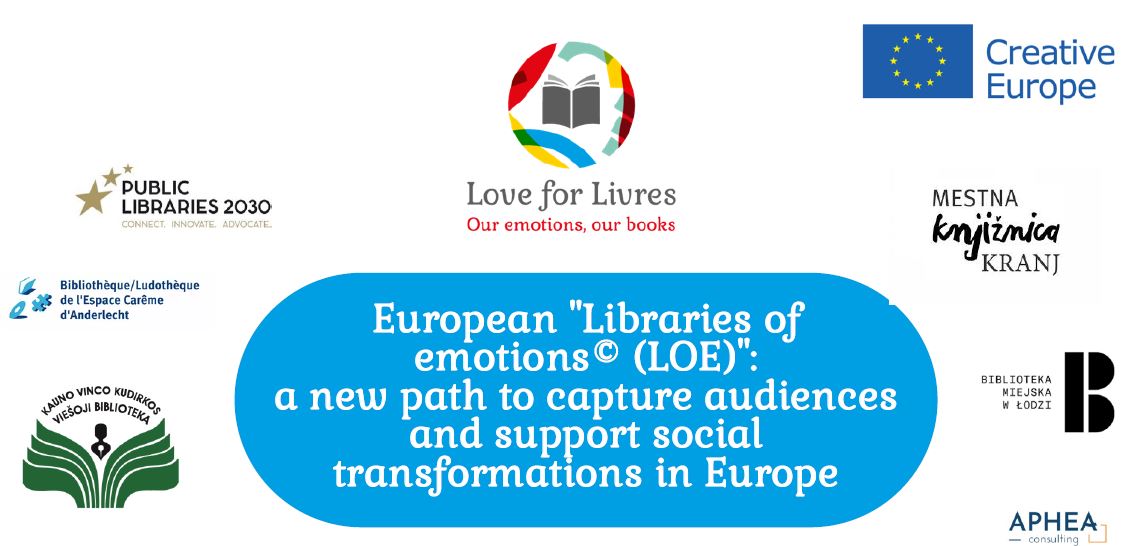 Mestna knjižnica Kranj
(Partner)
Vsi projekti slovenskega producenta
Tuji producenti pri podprtem projektu
Love for Livres

(leader)

Biblioteka Miejska in Lodz

(partner)

Bibliothèque de l'espace carême

(partner)

Kauno Miesto Savivaldybes Vinco Kudirkos Viesoji Biblioteka

(partner)

Public Libraries 2030

(partner)