Podprti projekti
Seznam
Footprints
Druga godba (Partner)
Ustvarjalna Evropa (2014-2020) - Kultura

Uprizoritvene umetnosti (gledališče, ples) in glasba

KULTURA

2020

1.332.802 EUR

666.000 EUR

15. decembra 2020 - 15. aprila 2024

V teku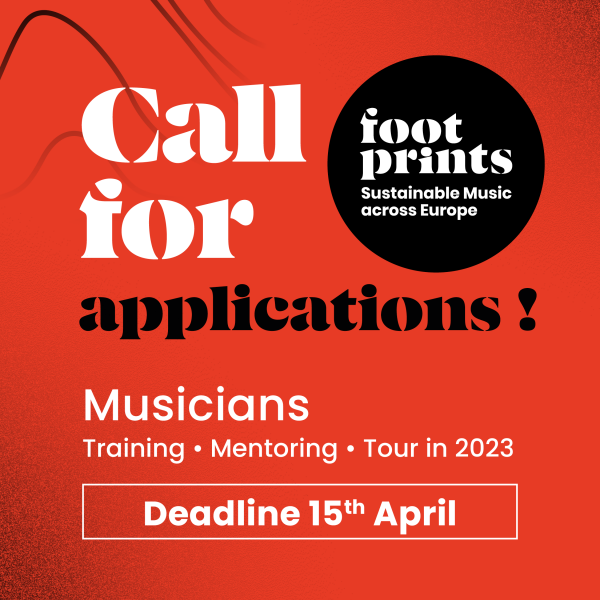 Glasbena industrija, ki predstavlja pomembno gonilno silo evropske kulture, zadnjih nekaj desetletij doživlja bistvene spremembe. To je privedlo do točke, ki kliče po temeljitem razmisleku o prihodnosti panoge, zlasti zdaj, ko se soočamo z izzivi, ki to prihodnost ogrožajo. Stalna kriza je razgalila že obstoječe probleme našega sektorja, te pa je potrebno obravnavati sistematično in celostno.
Footprints je nov projekt sodelovanja, ki si prizadeva za reformo glasbenega sektorja, in ki v svoje dejavnosti vpeljuje vrednote družbene, ekonomske in okoljske odgovornosti. Footprints, ki je nastal na pobudo Lyonskega organizatorja Périscope: Musiques Innovantes in fundacije Wytwórnia iz Lodža, je neposredno nadaljevanje projekta Jazz Connective, ki ga je v letih 2018–2020 izvajalo šest evropskih držav.
S projektom Footprints bomo izvajali vrsto dejavnosti, katerih cilj je pomagati vsem akterjem glasbenega sektorja pri uveljavljanju na evropskem glasbenem trgu in utrditi evropsko ustvarjalno glasbeno skupnost okoli vrednot, ki jih trenutno potrebujemo bolj kot kdaj koli.
Skupaj bomo s tem projektom omogočili izobraževanje, usposabljanje in mentorstvo za umetnike, agente in promotorje.
Vsi projekti slovenskega producenta
Tuji producenti pri podprtem projektu
Rassemblement d´energies pour la sauvegarde d´un espace artistique utopique

(leader)

Fundacja Wytwornia

(partner)

Music Information Center Austria

(partner)

Stiftelsen Oslo Jazzfestival

(partner)

Stichting Bimhuis

(partner)