Podprti projekti
Seznam
GELATOn the ROAD – evropska sladoledna pot
Razvojna agencija ROD (Partner)
Ustvarjalna Evropa (2021–2027) – KULTURA

KULTURA

2022

1.733.747,00 EUR

115.585,80 EUR

1. aprila 2023 - 31. marca 2026

V teku
Projekt GELATOn the ROAD ustvarja prvo evropsko sladoledno pot, namenjeno promociji in ohranjanju lokalne kulturne dediščine in identitete. Temelji na merilih okoljske trajnosti, kakovosti izdelkov in surovin ter inovativnosti znotraj sistema dobavne verige proizvajalcev sladoleda.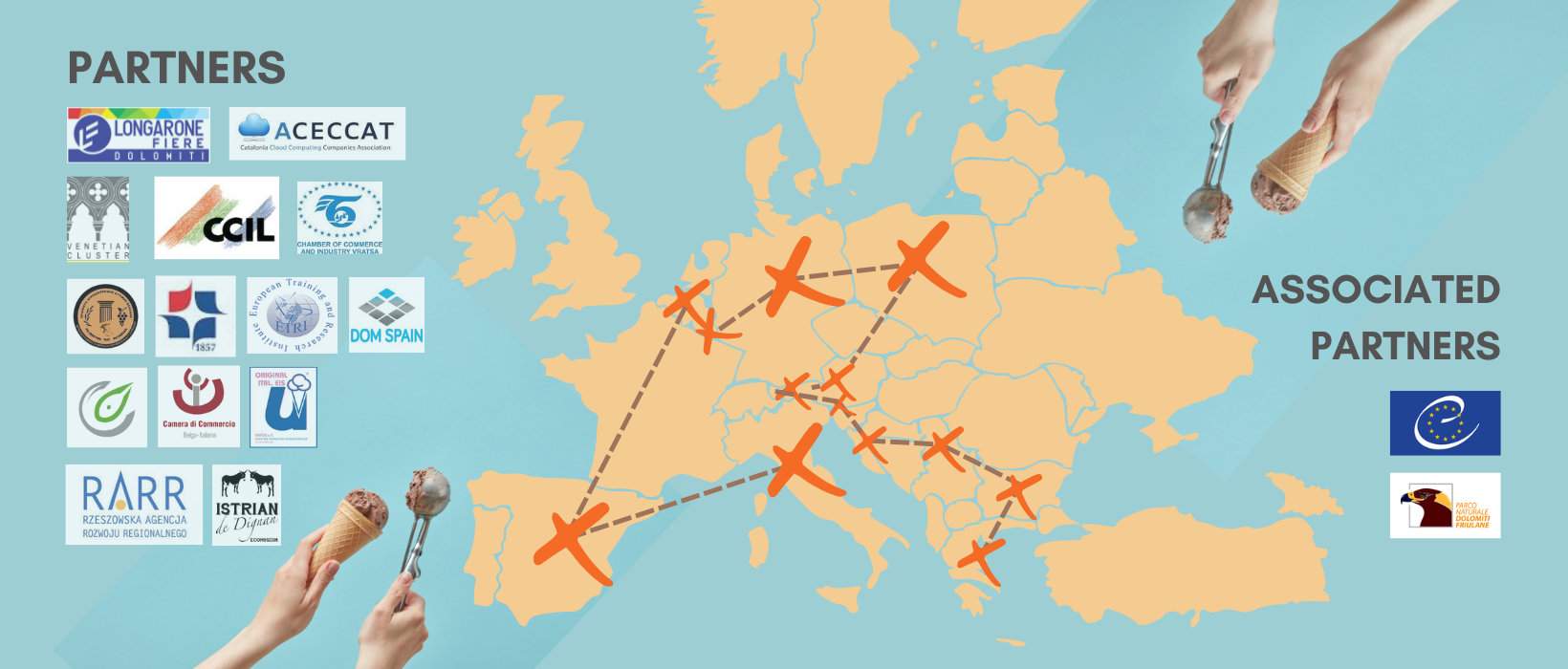 Skozi stoletja se je obrt izdelave sladoleda prenašala iz generacije v generacijo in postala sestavni del kulture v mnogih družbah. Na okuse in teksturo sladoleda so vplivali številni dejavniki, kot so lokalne sestavine in kulinarične tradicije, kar je privedlo do raznolike, a edinstvene ponudbe okusov.
RRA ROD Ajdovščina bo v partnerski vlogi v okviru projekta zagotovila podporo za opredelitev vsebin usposabljanj in v evropsko sladoledno pot (European Road of Gelato – EroG) vključila tri lokalne proizvajalce sladoleda z območja Vipavske doline. V lokalnem okolju bo izvajala naslednje aktivnosti:
postanek potujočega pop-up muzeja v sklopu vsakoletnega festivala Okusi Vipavske: razstava bo povezana z zgodovino sladoleda ter vidiki kakovosti, trajnosti in gastronomije v kulturnem turizmu;
usposabljanje – izvedba delavnic na temo trajnostnih rešitev kulturnega turizma in trajnostne pridelave obrtniškega sladoleda;
kuharska oddaja: uporaba lokalnih sestavin pri izdelavi domačega sladoleda, povezovanje sladoleda z domačo kulinariko;
javna predstavitev in promocija projekta v okviru postanka potujočega pop-up muzeja. ROD bo vodilni partner v delovnem paketu 3, ki bo namenjen vzpostavitvi EroG.
V aktivnosti bodo vključeni proizvajalci sladoleda in drugi akterji z vseh partnerskih držav (vsaj 10). V ta namen bo vzpostavljena spletna stran projekta, preko katere se bodo proizvajalci sladoleda prijavili k sodelovanju v projektnih aktivnostih. Pogoj za vključitev bo zavezanost k trajnostnim standardom. Organizirano bo tekmovanje za najboljši okus sladoleda, pri čemer bo vsak projektni partner lokalnemu proizvajalcu sladoleda zagotovil vsaj dve sestavini iz lokalnega okolja.
Razvojna agencija ROD
(Partner)
Ajdovščina
Vsi projekti slovenskega producenta
Tuji producenti pri podprtem projektu
Longarone Fiere Dolomiti

(partner)

Venetian Cluster

(partner)

Belgian-Italian Chamber of Commerce

(partner)

The Agrifood Partnership of the Region of Western Greece

(partner)

Uniteis e.V.

(partner)

Italian Chamber of Commerce

(partner)

Chamber of Commerce and Industry of Serbia

(partner)

Dignan Ecomuseum Vodnjan

(partner)

European Training and Research Institut

(partner)

Cloud Computing Business Association of Catalonia

(partner)

Rzeszow Regional Development Agency

(partner)

The Chamber of Commerce and Industry Vratsa

(partner)

DomSpain (DS Formacio)

(partner)