Podprti projekti
Seznam
Klasiki v stripu: vzorčni model inovativne kulturno-umetnostne vzgoje v srednji šoli
Slovenski gledališki inštitut (SLOGI) (Vodja)
Ustvarjalna Evropa (2014-2020) - Kultura

Uprizoritvene umetnosti (gledališče, ples) in glasba

KULTURA

2019

335.284 EUR

200.000 EUR

1. novembra 2019 - 30. junija 2023

Zaključeno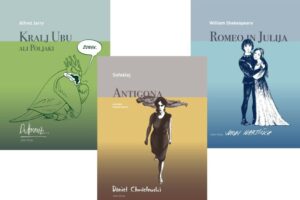 Dramatika je literarna zvrst in hkrati uprizoritvena predloga. Bistvo dramske pisave je dialog – dvo-govor, izmenjava mnenj. Skozi dialog se ustvarjajo, izražajo in mirijo nasprotja, ustvarjajo sozvočja, sprejemajo drugačnosti, gradijo medčloveški odnosi, izražajo temeljne človeške in človekove resnice o svetu, mestu in vlogi človeka v njem. Od svojih začetkov v antični Grčiji je dramatika univerzalen prostor dialoškega razmisleka o temeljnih človekovih vrednotah in medčloveških odnosih. Zaradi svoje univerzalnosti dramatika ustvarja kulturne, umetniške in družbene kanone, ki so vpeti v evropski kulturni prostor. Posamezna dramska dela lahko zato označimo kot kanonska dela evropskega kulturnega prostora ali kot podstat evropske kulturne identitete (ki upošteva in spoštuje nacionalne raznolikosti, odpira in omogoča prostore medkulturnega dialoga ter hkrati temelji na enotnih temeljnih etičnih normah in vrednotah, skozi tisočletja razvijajočih se iz starogrške filozofije in umetnosti). Te drame presegajo nacionalni okvir in prostor svojega nastanka ter so kot umetniški kanon in kot večno živa kulturna dediščina vpete v vsako evropsko nacionalnost. S svojo umetniško kvaliteto in univerzalnim »sporočilom« so v vsakem trenutku sodobne in aktualne. Vredno jih je spoznati in skozi njih spoznavati sebe, drugega in svet, v katerem bivamo.
Projekt: Klasiki v stripu: vzorčni model inovativne kulturno-umetnostne vzgoje v srednji šoli / Classics in the Graphic Novel: A pilot model of new high school culture education through graphic novels

Pod vodstvom Slovenskega gledališkega inštituta, ki je tudi nacionalni koordinator za kulturno-umetnostno vzgojo na področju gledališča, bodo trije partnerji iz Slovenije, Poljske in Slovaške izbrali tri kanonske evropske drame – tri evropske dramske klasike. Trije vizualni umetniki, avtorji stripa, bodo izbrane kanonske drame, v sodelovanju z dijaki s treh srednjih šol, udejanjili v treh stripih. Vsaka drama-strip bo na voljo v slovenščini, poljščini in slovaščini. Z umetniki, dijaki in učitelji bodo na podlagi stripov z rezidencami pri vsakem partnerju razvili vzorčni model inovativne medpodročne in interdisciplinarne kulturno-umetnostne vzgoje v srednji šoli. Gledališko dediščino uprizarjanja izbranih dram v državah partnericah pa bodo mednarodnemu prostoru predstavili z e-razstavo. Za več spremljajte spletno stran projekta in FB.
Slovenski gledališki inštitut (SLOGI)
(Vodja)
Vsi projekti slovenskega producenta
Tuji producenti pri podprtem projektu
Divadelny Ustav

(partner)

Instytut Teatralny im. Zbigniewa Raszewskiego

(partner)