Podprti projekti
Seznam
Smo to mi?
MIŠ založba (Vodja)
Ustvarjalna Evropa (2021–2027) – KULTURA

Knjiga in prevodni projekti

KULTURA

2021

59.900,00 EUR

59.900,00 EUR

1. junija 2022 - 31. maja 2024

V teku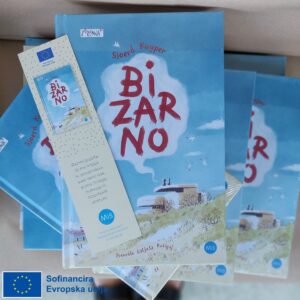 Smo to mi? Kaj nas določa? Je to depresija, revščina, bolezen, osamljenost, vojna? Nas opredeljuje politika? V projekt Smo to mi? smo vključili izbor družbeno angažiranih literarnih del, ki (mladim) bralcem nudijo uteho v svetu, ki je – tudi zaradi pandemije ter širših družbenih in političnih okoliščin – postal prežet s skrbmi, strahom pred prihodnostjo, osamljenostjo in medsebojnim razdorom. Izbrana prevodna dela obravnavajo pomembne družbene ali osebne teme sodobnega časa – anksiozno motnjo, osamljenost, posledice izgorelosti, potrebo po skupnosti, vojno, izgubo bližnjega, migracije, revščino, integracijo, marginalizirane skupine, zapletene medčloveške odnose … Ker je večina produkcije založbe Miš namenjena otrokom in mladostnikom, je v izbor vključenih sedem mladinskih romanov, zadnje delo, nagrajeno z evropsko nagrado EUPL, pa je namenjeno odraslim.
Založba Miš je glavni organizator festivala Bralnice pod slamnikom. Festival bo v letih 2023 in 2024 služil kot pomemben del promocije izbranih prevodnih del.
Seznam del
Sjoerd Kuyper: Bizar. Prevod iz nizozemščine v slovenščino: Katjuša Ručigaj.
Xavier-Laurent Petit: Le fils de l'Ursari. Prevod iz francoščine v slovenščino: Jedrt Lapuh Maležič.
Mette Vedsø: Når hjertet er en elpisker. Prevod iz danščine v slovenščino: Darko Čuden.
Jaanus Vaiksoo: King Nr: 39. Prevod iz estonščine v v slovenščino: Julija Potrč Šavli.
Wilma Geldof: Het meisje met de vlechtjes. Prevod iz nizozemščine v slovenščino: Stana Anželj.
Neda Alaei: Dette er ikke oss. Prevod iz norveščine v slovenščino: Marija Zlatnar.
Jasminka Tihi-Stepanić: Ljeto na jezeru Čiču. Prevod iz hrvaščine v slovenščino: Damijan Šinigoj.
Nathalie Skowronek: La carte des regrets. Prevod iz francoščine v slovenščino: Jedrt Lapuh Maležič.
Vsi projekti slovenskega producenta