Podprti projekti
Seznam
#synergy
Festival Ljubljana (Partner)
Ustvarjalna Evropa (2014-2020) - Kultura

Uprizoritvene umetnosti (gledališče, ples) in glasba

KULTURA

2020

410.930 EUR

1. marca 2021 - 31. decembra 2023

V teku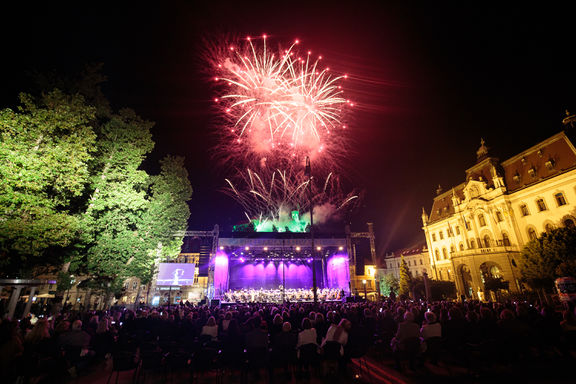 Cilj projekta #Synergy: Sharpening the capacities of the classical music industry in the Western Balkans je povečati zmogljivost klasične glasbene industrije na območju Zahodnega Balkana z nadnacionalnim in mednarodnim delovanjem z ustvarjanjem priložnosti za razvoj novih spretnosti ter pridobivanjem strokovnih izkušenj in strokovnega znanja kulturnih strokovnjakov, skladateljev in nastajajočih izvajalcev. #Synergy poudarja potrebo po sodelovanju med Zahodnim Balkanom in državami EU na področju klasične sodobne glasbe, kar bo privedlo do večjega priznavanja tega pomembnega obrobnega sektorja CCI na evropski ravni.
Naslov projekta odraža njegove glavne cilje: izostriti spretnosti udeležencev (v klasični glasbi, znak "#" pomeni "oster") in povezati dejavnosti projektnih partnerjev. #Synergy povezuje šest pomembnih umetniških glasbenih festivalov Zahodnega Balkana in EU –  KotorArt Don Branko's music days (ČG), Dubrovnik Summer Festival (HR),  Belgrade Summer Festival  (SRB), Festival Ljubljana (SLO), Festival Vox Baroque  (AL), Kosovo Chopin Association  (XK). Festivali bodo sestavili komisijo, ki bo izbrala  12 novih glasbenih del 12 skladateljev. Vsak skladatelj bo sodeloval v programu bivanja in bo ustvaril delo, ki bo predstavljalo umetniški odziv na izbrano družbeno pomembno temo. Skladbe bodo izvedli preko razpisa izbrani izvajalci klasične glasbe iz vseh držav projekta (cca. 40 izvajalcev), ki bodo to novo glasbo predstavili občinstvu po državah Zahodnega Balkana v okviru festivalov partnerjev projekta in v državah EU. Tako bodo skladatelji in izvajalci deležni močne mednarodne spodbude, festivali pa bodo imeli koristi od nadnacionalne izmenjave znanja in virov.
Hkrati bodo projektni partnerji izvajali dejavnosti za nadaljnji razvoj lastnih zmogljivosti na področju upravljanja s področja kulturnega upravljanja. Organiziranih bo šest delavnic, ki bodo obravnavale različna področja industrije klasične glasbe, vključevale bodo vse partnerje, ki bodo delili svoje znanje in izkušnje. Vzpostavljena bo neodvisna strokovna raziskovalna skupina, ki bo sodelovala pri analizi politik, katere rezultat bo vodnik za klasično glasbeno industrijo.
Festival Ljubljana
(Partner)
Vsi projekti slovenskega producenta
Tuji producenti pri podprtem projektu
Don Branko Sbutega Foundation

(leader)

Centar beogradskih festivala - CEBEF

(partner)

Javna ustanova u kulturi Dubravacke ljetne igre Dubrovnik

(partner)

Kosovo Chopin Association

(partner)

VOX Baroque

(partner)