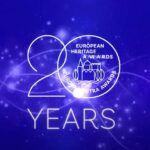 The European Heritage Awards/Europa Nostra Awards put a spotlight on remarkable projects, initiatives and personalities in the field of cultural heritage. The EU Prize for Cultural Heritage recognises achievements in the field of cultural heritage across Europe in 5 main categories, i.e. Conservation and Adaptive Reuse; Research; Education, Training, and Skills; Citizens Engagement and Awareness-raising; Heritage Champions.
The annual EU prize for cultural heritage rewards 30 excellent initiatives and outstanding personalities from 18 European countries representing the latest developments and priorities related to heritage policy and practice in Europe.
Among the 2022 winners (in category Research) is also the Silknow Horizon 2020 project that produced a comprehensive intelligent computational system that goes beyond current technologies to improve our understanding and knowledge of Europe's silk heritage. The consortium of nine partners from France, Germany, Italy, Poland, Slovenia and Spain represent cultural heritage, academia, ICT and SME industries, and are committed to keep silk heritage alive. For more, see silknow.eu
Vote for the Public Choice Award winner online
The winners will be celebrated on 26 September at the State Opera of Prague at the European Heritage Awards Ceremony, to be co-hosted by the European Commissioner for Culture and the Executive President of Europa Nostra. The Grand Prix laureates and the Public Choice Award winner, chosen from among the winning projects and entitled to receive €10 000 each, will be announced during the Ceremony.
Between mid-August and mid-September, heritage supporters and enthusiasts are encouraged to vote online for the Public Choice Award.

Further information about the European Heritage Awards here and 2022 winners here.