Novice
Seznam
Interdisciplinarni projekti
---
DECONFINING: Deconfining arts, culture and policies in Europe and Africa
18 oktobra, 2022
Cilj projekta DECONFINING: Deconfining arts, culture and policies in Europe and Africa je ustvariti nove, enakovredne kulturne vezi med Evropo in Afriko z razvojem trajnostnega referenčnega modela sodelovanja, ki se bo pozneje razširil tudi na druge regije sveta. Projekt, ki temelji na tesnem sodelovanju med obema celinama in povezovanju njunih programov prestolnic kulture, bo združil […]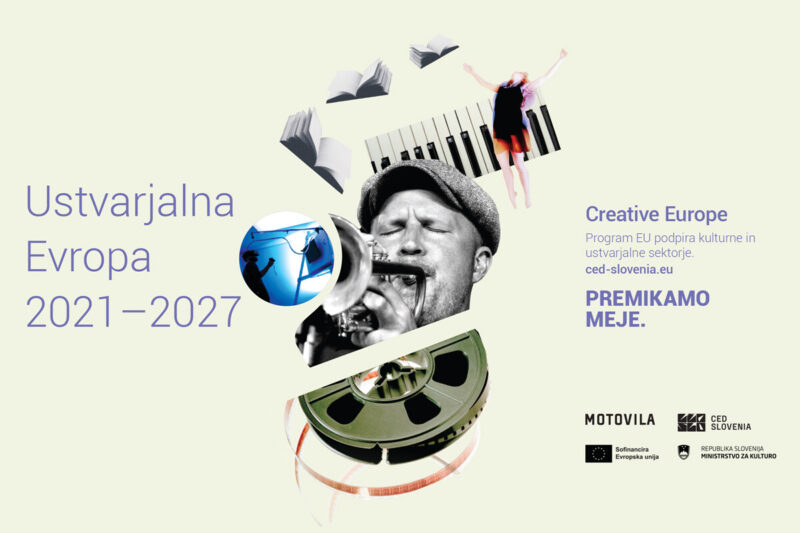 LEITMOTIV-AREA, Španija
26 julija, 2022
The Spanish association LEITMOTIV-AREA would like to participate as a partner in a small cooperation project. They have a wide experience in Erasmus+, and their fields of expertise are youth and volunteering, social inclusion, social and cultural innovation, education and cultural tourism.
Municipality of Oraiokastro, Grčija
1 marca, 2022
Municipality of Oraiokastro is looking for projects that deal with local cultural associations and teenagers or and children getting in touch with culture in modern ways.
CONNECT&CREATE, Latvija
3 februarja, 2022
Latvian NGO "CONNECT&CREATE" is interested in cooperation with partners in visual arts, music, performance art, innovative materials, digital media, art and music therapy, as well as in other fields, to participate in the Small Scale Cooperation Projects.
Between Music, Danska
28 januarja, 2022
The Danish music and concert association "Between Music" is looking for a lead partner and local partners to participate in creating a sustainable touring water festival for the Cooperation Projects 2022 call.
ARTENS, Grčija
25 junija, 2021
ARENS, a non-profit organization from Greece, is searching for partners from Austria, Cyprus, Spain, Italy, Sweden and Switzerland to organize cultural seminars and festivals aiming at the development of arts through intercultural cooperation.
Olympolis Art Project, Grčija
13 aprila, 2021
Olympolis Art Project is looking for partners from Central and East Europe in order to realise a project in the fields of performing arts, intangible cultural heritage, visual arts, literature, architecture, arts and technology, sustainability, gastronomy, cultural travel and experiences, audience development, social cohesion.
Turku University of Applied Sciences / Arts Academy, Finska
2 aprila, 2021
Turku University of Applied Sciences / Arts Academy is looking for partners from various sectors. Their project experiments with European light and darkness in multi-art workshops and artist collaborations. They have good experience from Creative Europe projects.
Rossocarminio, Italija
2 aprila, 2021
The Italian Association Rossocarminio would like to take part as a partner in a cooperation project in the field of philosophy, culture, art.
Fundación DEARTE Contemporáneo, Španija
16 marca, 2021
DEARTE 2030 wants to fight for repopulation of the rural areas through art and sustainability and create a network for cultural exchange and social synergies (as leader or partner). Fields: Performing arts, cultural heritage, visual arts , architecture, technology, sustainability, coworking and entrepreneurship.