News
Plan B#3 – Accelerated digital shift during and after the crisis
Third online talk (5 Nov.) in a PLAN B series on the cultural policies of European cities in the current crisis and beyond will focus on the process of intensely accelerated digital shift that affected also the cultural and creative sectors. Registration open!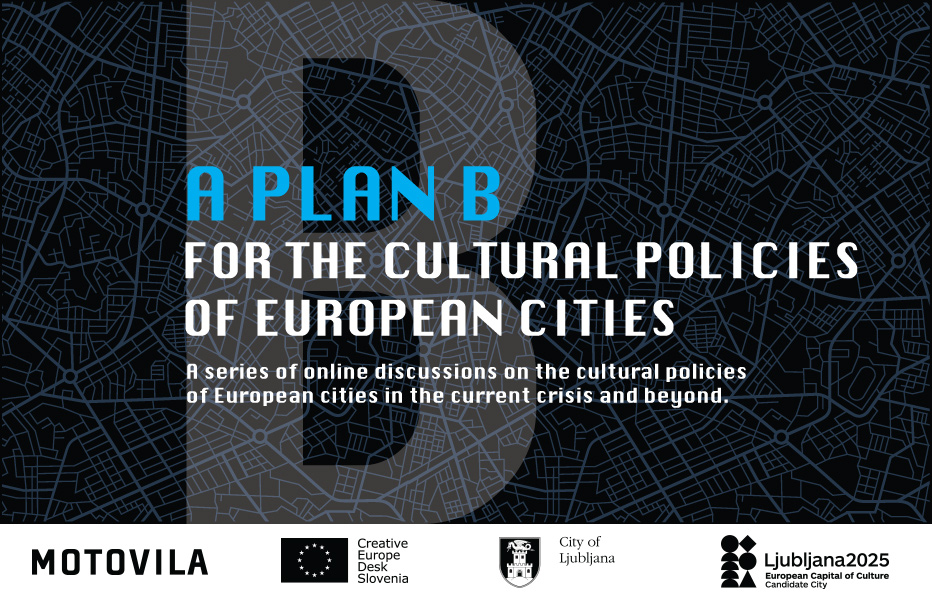 What are the main opportunities this sector can seize, and what are the key challenges of this forced digital shift during the pandemics? What it means for cultural diversity, accessibility, live art, the creative process, the audience? What is the role for European cities and governments to support the cultural sectors in these times of major digital shift?
The debate will host representatives of municipalities and cultural practitioners from different European cities, Coventry, Tartu and Ljubljana, and will be moderated by a renowned international expert on cultural policies and the development of creative cities, Ragnar Siil.
What: Online discussion moderated by Ragnar Siil
Guests: Tony Guillan (Coventry City of Culture Trust), Kalle Paas (Tartu 2024 European Capital of Culture), Simon Kardum (Kino Šiška Centre for Urban Culture, Ljubljana)
When: Thursday, 5 November 2020, 13.00–14.30 CET
Online registration by 5 November 2020, 12.00 CET, here
The event will be held in English.
Further information here.
The purpose of this series of online discussions titled A Plan B for the Cultural Policies of European Cities is for representatives of various European cities to exchange their experiences in providing support to artists, cultural creators and organizations during the crisis brought about by the coronavirus pandemic. Examples of good practices can serve as a model and a stimulus for European cities at a time when cultural entities must find new ways to operate.
The series of online discussions is organized by the City of Ljubljana and the Motovila Institute (CED Slovenia) in cooperation with members of the European network of Creative Europe Desks. Ljubljana is a candidate city for European Capital of Culture 2025.