News
Exhibition: Common places in Ljubljana
Museum of Architecture and Design (MAO) presents Common Places, a commissioned project by Chilean-French architecture office Plan Común and the Portuguese landscape architect Tiago Torres-Campos. Common Places is a series of brick constructions located in Nove Fužine, a part of Ljubljana where MAO is situated.
A CONSTELLATION OF MICRO-INTERVENTIONS IN NOVE FUŽINE, LJUBLJANA
#exhibition
14 September 2016 – 29 October 2017
Museum of Architecture and Design (MAO)
Pot na Fužine 2, Ljubljana, Slovenia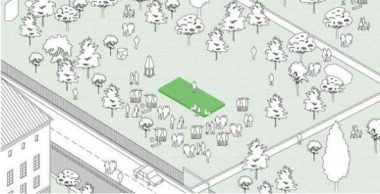 Plan Común and Tiago Torres-Campos have designed five multifunctional plinths, which are strategically positioned over the entire neighbourhood: in the museum courtyard, along the river, in the historic garden, in front of the community centre and behind the famous city bus stop, designed by Saša J. Mächtig in the 1960s. The plinths build, encourage and reinforce different uses of public space and create specific relations with the surroundings. They intend to become platforms for contemplation, meeting points, stages for events, concerts or lectures, or simply structures on which to sit and enjoy the communal life of the neighbourhood. In order to encourage passers-by to think about these spaces, Slovenian writer Goran Vojnovic wrote short stories about the selected sites in which he reflects youth in the neighbourhood.
See more at MAO.
The project is part of the Future Architecture platform, co-funded by the Creative Europe Programme of the EU, and Faraway So Close – 25th Biennial of Design, Ljubljana.