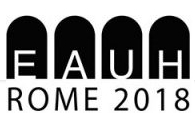 The International Conference on Urban History will take place in Rome from August 29th to September 1st, 2018. The Session SS48 EAUH 2018 – "Women and the City: The Changing Role of Women in Urban Renewal since 1989" will be chaired by Caterina Franchini (Politecnico di Torino) and Helena Seražin (Research Centre of Slovene Academy of Sciences and Arts).
The contribution of women architects, urban planners and designers to their profession has been for long minimised or overlooked by 'seminal' and mainstream histories, despite the fact that all over the world and to different extents, women have reacted with inventiveness to their profession's restrictive and sometimes discriminatory practices by engendering innovations to the field. This topic is timely as proved by the European cultural cooperation project "MoMoWo – Women's creativity since the Modern Movement".
This session aims reveal the professional achievements of individual women practitioners who worked and are still working in Europe and beyond by illuminating the many commonalities among female architects, urban planners and landscape designers who wanted to change things for the better. The topics of interest may include: changing outdated legislation; improving or replacing failed urban models that over time do not serve cities as communities in terms of ethnicities; ages and gender's needs such as making safer cities for women. Furthermore, this section intends to provide a historical overview of urban policies and public administrations that have been forward-thinking in investing in renewal without gender biases, thus contributing in breaking down the 'glass ceiling' for women in urban practices.
This session invites papers that might explore both the work of women innovators in urban renewal and urban resilience regarding gender. Papers are encouraged to provide a multidisciplinary picture on the role of women in reshaping cities in Europe and beyond from the fall of the Berlin Wall until the present. They might take into account the main paths that women professionals took in expressing their skills in fields and practices that were initially dominated by men.
The underlying ethical challenges of the specialists working together across cities, towns, neighbourhoods and urban public spaces face both genders. Nowadays, women and men in the design professions are actively working alongside each other as never before, given the growing numbers of young women graduates entering the field. In this case, how are women changing cities? Are there chief assets, strategies and tactics commonly embraced by women in order to change the status quo?
Keywords: women; gender; urban renewal; urban resilience; urban policies; public spaces; safer cities.
Paper proposals can only be submitted online, via the EAUH2018 website. To submit a paper proposal, registration is required at https://eauh2018.ccmgs.it/users/ .
Abstracts of paper proposals should not exceed 450 words.
Deadline for paper proposals submission: October 5, 2017.
Notification of paper acceptance: December 1, 2017.