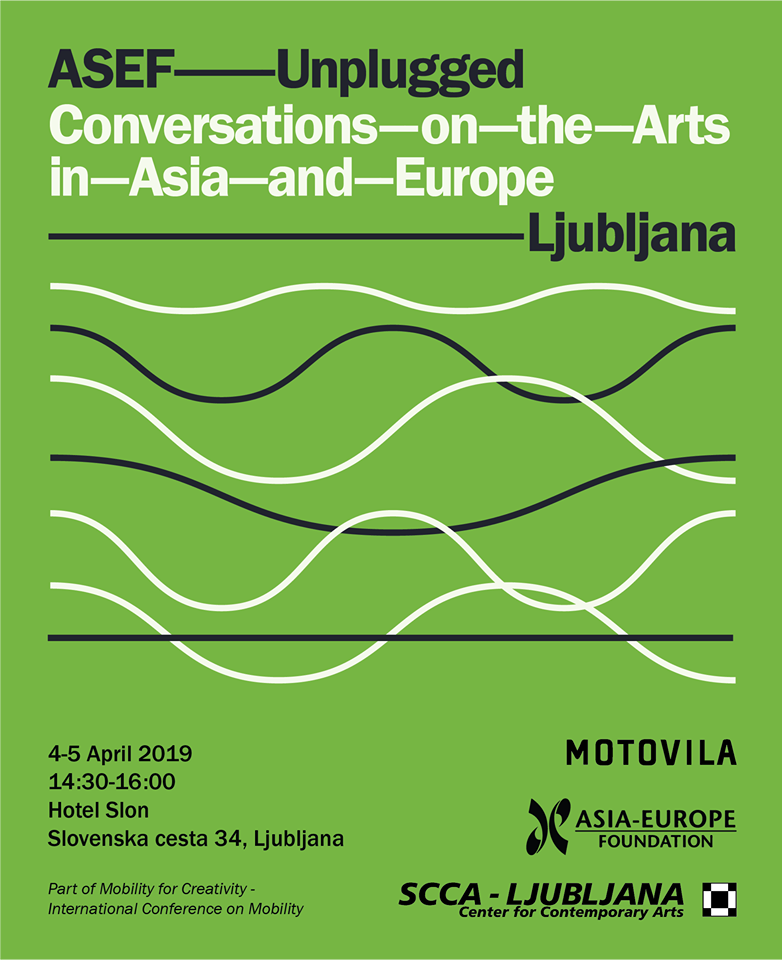 ASEF Unplugged is the ASEF's event-series offering more informal and intimate spaces for open, authentic and peer-to-peer conversations. Designed as a meet-and-greet session, ASEF Unplugged is a format responsive to the rapidly changing needs of an increasingly interactive and engaged audience.
ASEF will implement the 14th edition of ASEF Unplugged as part of the Who is Who sessions on both days of the conference #Mobility4Creativity in Ljubljana, April 4–5, 2019. Do not miss the opportunity to meet Fatima Avila, project manager of Mobility First! – ASEF Cultural Mobility Initiative, which was set up in recognition of existing funding gaps, particularly in the Asia-to-Europe and Asia-to-Asia contexts.
#MobilityFirst
Mobility First! – ASEF Cultural Mobility Initiative is the ASEF's travel grant for artists and cultural professionals. Mobility First! supports a wide variety of activity types (workshop/training, conference/forum, festival/biennale, residencies, partnership meetings, research trips, short-term exploration/networking) with particular focus on these areas:
– Skills transfer / knowledge exchange
– Innovation in arts & culture
– Local development
– Art and social issues: the role of art & artists in society
Who can apply?
Mobility First! accepts two types of applications from:
1) Individuals – artists/cultural professionals looking to participate in any of the eligible activity types (outgoing mobility);
2) Organisations – arts organisations applying for up to 5 artists/cultural professionals they want to invite to an activity they are organising
Mobility First! – ASEF Cultural Mobility Initiative 2019
Open call: 1 to 30 April / Results: 31 May / Travel period: 15 June to 31 October
Open call: 15 May to 15 June / Results: 15 July / Travel period: 1 August to 15 December
Note: The deadline for each round of application will be 11:59 PM GMT+8 (Singapore Time).
Contact person: Ms Fatima Avila, Project Manager, Culture
ASEF is a not-for-profit organisation based in Singapore and is publicly funded by 51 countries in Asia and Europe, the European Union, and the ASEAN Secretariat. Culture is one of ASEF's focus areas, and Mobility First! is one of ASEF's flagship projects, supporting travel between Asia and Europe, and within Asia. In addition, ASEF produces Mobility Funding Guides for each of ASEF's member countries – the European guides are made in partnership with On The Move. All guides are a comprehensive list of funding resources for nationals of each of ASEF's member countries. The Guides can be accessed at www.culture360.ASEF.org.
Further information about
… ASEF Unplugged here.
… Mobility First! – ASEF Cultural Mobility Initiative 2019 here.