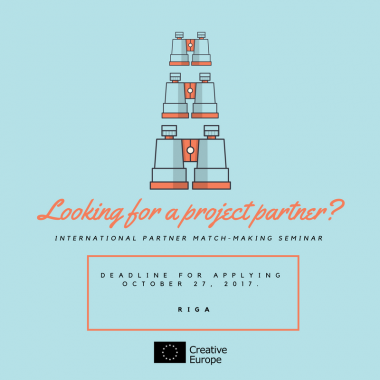 Creative Dialog aims to enable synergies between Creative Europe Programme 2014–2020 and European Economic Area Financial Mechanism (EEA) as a means to achieve further cooperation between experienced cultural operators and newcomers. The ambition of the seminar is to strengthen already formed cooperation between interstate EEA partners and foster new partnerships in the framework of the Creative Europe Programme and EEA financial mechanism.
The event is addressed to experienced EEA and Creative Europe project implementers and recommended for newcomers such as culture sector workers and project managers coming from an organization or institution interested in developing international cooperation with funding from the Creative Europe Programme and EEA.
Deadline for applying: November 3, 2017.
Those interested in applying should fill a registration Google Form.
See Invitation to Creative Dialog and more info.
Seminar is financed under the European Economic Area Financial Mechanism programme LV04 "Conservation and Revitalisation of Cultural and Natural Heritage".
You may also browse through our Partner Search database.